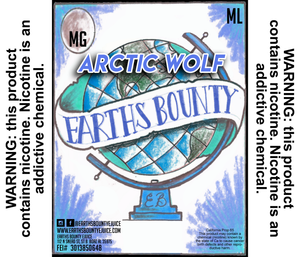 Arctic Wolf 50/50 Blend-Peppermint Menthol.                                                                                                                 If there is a specific flavor that is not offered from Earth Bounty. please put it in the notes so we can either add it to our selection or switch out what you ordered instead.                                                                                For example say you want white rabbit but you ordered arctic wolf.. put in notes (Please send White rabbit instead) 
Size
The size on the site said 60ml and when it came it was a lot smaller than the 60ml that I buy in the local store. I was a little disappointed.
Not received
Not received also this is what they sent to me
When I asked where my order was after 2wks order
You BETTER. Understand that we have NO connection to USPS. So the fact we're sending out another one to you on our own dime. should be enough.
Still not arrived
I don't know, as I haven't opened the bottle! I love EB AW, but I typically buy 24mg. Apparently I forgot to specify this when ordering, so got 0 mg. Very speedy delivery, just wrong nic level. Would be great if you would send me 120 ml of EB AW, 24mg,asap, and I will return the other bottle...?!
Earths Bounty - Arctic wolf 50/50
Happy
Happy with my order and fast delivery