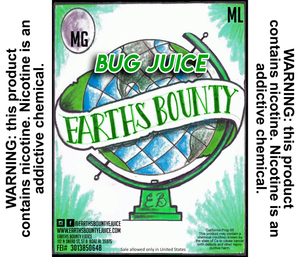 Bug Juice 50/50 Blend-Uniquely balanced combination of Strawberries, Pineapple, Raspberries and Apricot that bring you the refreshing sweetness you dream of.
                                                                                                               If there is a specific flavor that is not offered from Earth Bounty. please put it in the notes so we can either add it to our selection or switch out what you ordered instead.                                                                                For example say you want white rabbit but you ordered arctic wolf.. put in notes (Please send White rabbit instead) 
Bad batch
This has been my go to juice for the last 4-5 years. It's always been smooth, easy and flavorful. However, this last batch was very harsh and rough on my throat. I've barely made a dent in the bottle due to how harsh it is. I don't know if they've changed the way the juice is made or not, but how it's been for the last 4-5 years has been absolutely superior to all other juices. I'd switch my review stars to 5 if this last batch hadn't been a waste of money.
Taste is wrong
I've been vaping Bug Juice for 5+ years. This doesn't taste like it and it is the wrong color. It's usually a light clear yellow. This is a dark yellow.
Horrible
Thought I was getting my normal bug juice that I have used for years. This tastes nasty and leaves a horrible after taste. If this order is not replaced, this will be my last purchase with yall. Thx Jerome Vorwald
Bug juice
My all time favorite ejuice!!
Fast shipping, great juice!
Loved it. Easy convenient and fast shipping. Great juices!