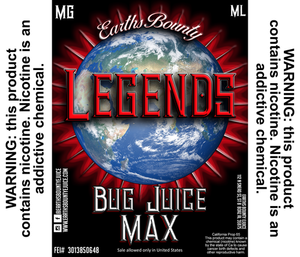 Legends Bug juice Max-Uniquely balanced combination of Strawberries, Pineapple, Raspberries and Apricot that bring you the refreshing sweetness you dream of.
                                                                                                               If there is a specific flavor that is not offered from Earth Bounty. please put it in the notes so we can either add it to our selection or switch out what you ordered instead.                                                                                For example say you want white rabbit but you ordered arctic wolf.. put in notes (Please send White rabbit instead) 
Bug juice
This is my all time favorite!! The best flavor!! 😋
Awesome flavor!
Can't get enough of this juice, it has been my ADV for years. Amazing fruit blend with a hint of apricot that keeps you coming back! 😎💨💨
Earths Bounty - Legends Bug Juice Max 80/20