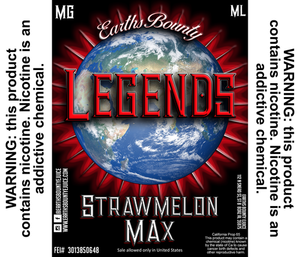 Legends Strawmelon Max-Strawberry watermelon fusion!
                                                                                                               If there is a specific flavor that is not offered from Earth Bounty. please put it in the notes so we can either add it to our selection or switch out what you ordered instead.                                                                                For example say you want white rabbit but you ordered arctic wolf.. put in notes (Please send White rabbit instead) 
The BEST vape juice for me
So thankful you guys are selling this vape juice by Earth Bounty. It is the one that helped me quit smoking cigarettes 9 years ago.