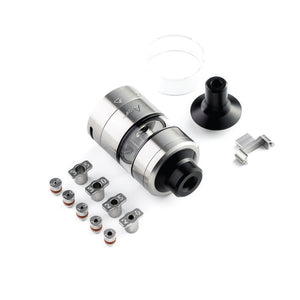 Atmizoo AER RTA
During the 6 months RnD and prototyping period of the DotShell, Atmizoo evolved the concept of DotShell's wicking method, plus its signature design of the deck and vaporisation chamber. With further testing, then discovered that the DotShell's approach has much potential when increasing the width and overall space of the deck / chamber combo. The performance of this design peaked with a large round deck approach. The fruitful result of the RnD work with the DotShell and its further evolution are proudly expressed through the Aer RTA, new single coil RTA suggestion by Amizoo, with 24mm outer diameter.
The deck and the wicking method
So the heart of the Aer RTA is largely based on the DotShell. The deck's form includes the distinctive two diagonal, half tube leads that serve as cotton nests, and at the same time restrict the flow of the liquid and the chamber space as desired. Cotton wicking is achieved with wick holes placed on the ceiling of the vaporisation chamber and the inner surface of this ceiling is carved, so that the whole assembly ensures a formation with impressive results on flavour analysis and vapor production. This approach has already delivered excellent results with the DotShell, but now, with even more space, larger pan head phillips post screws and more potential, reached the highest standards of performance, regardless of vaping preferences (MTL, RDL, DL).  
Ergonomics and functions 
Atmizoo worked on the thread-less rotary mechanism of the Tripod, with twist and pull / push actions on conveniently marked points, to improve it and make it even easier on the Aer. Stop points are involved, so that the user will have to look for alignment signs as little as possible. As with the Tripod, you can access your deck any time you want and check your build, or even change build without dumping the liquid of your tank.
With the Aer, Atmizoo introduces the real time configuration of the air flow right under the coil, through fixed air flow tubes. This way, the user can swap air flow tubes any time / real time, keeping the build and the liquid inside the tank absolutely intact. The air flow is set via five pin options, with air hole diameter 0.8mm/1.0mm/1.2mm/ 1.5mm/1.8mm respectively, pinned inside a D=4.0mm nest, plus through five air flow tubes with air hole diameter 2.0mm/2.5mm/3.0mm/3.5mm/4.0mm (last one also serving as pins nest). You can always skip the tubes and enjoy a perfect, airy 5.0mm Direct Lung draw. 
The Aer utilises a new Top Cap design with no threads, which allows refilling in an instant, as you can remove and replace the Top Cap with less than half a turn.  It can host any 510 drip tip of your liking, although you will love the two 510 drip tips that will come with the device package, a wide and a narrow version for different vaping styles.
Features and specs
Air flow tuning via five pin options 0.8mm/1.0mm/1.2mm/ 1.5mm/1.8mm respectively, pinned inside a D=4.0mm nest, plus through five air flow tubes 2.0mm/2.5mm/3.0mm/3.5mm/4.0mm. No tube for a perfect airy 5.0mm DL.

M2.5mm pan head phillips post screws.

Two 510 drip tips (Narrow and Wide), can also host any 510 drip tip.

10.0mm post-to-post space, ~6.6mm post-to-post net space , ~5.5mm coil space.

Tank capacity 2ml

Max. net coiling height ~7mm

Chimney top inner D ~5.0mm

Height 510 excl., 35.4mm
Summing up
Findings from the DotShell RnD period had been impressive – they urged Atmizoo's designing team to further evolve this design approach, and they found out how well it can do with a tad bit more spacious details. The prototypes performance peaked with a 24mm diameter round version, which has finally evolved into the Aer RTA.
The package includes:
Deluxe Edition
1 x Aer RTA (pre-installed: 1 x 510 Wide Drip Tip, Air Flow Tube 4.0mm)

1 x Set of Spares (2 x Post Screws, 1 x O-rings Kit SIL RED, 1 x 510 Narrow Drip Tip, 1 x Tank Body Stock, Tool, Air Flow Tubes Kit 2/2.5/3/3.5mm, Universal Air Flow Pins Kit 0.8/1/1.2/1.5/1.8mm)

1 x User Manual

1 x Warranty Card 



Extension kit can be found here.