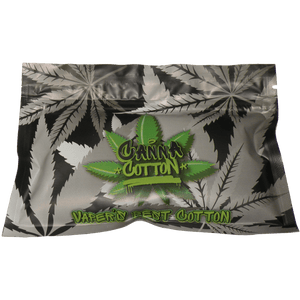 CANNA COTTON 20% HEMP 80% ORGANIC COTTON
We are proud to introduce Canna Cotton, the first Cotton world wide with Hemp! 
Using patented hemp fiber technology:
Canna cotton is extremely heat resistant and due to this technology dry hits are practically reduced to zero.
Canna cotton is able to withstand an accidental dry burn more than most kinds of cotton meaning no lingering burnt taste.
Canna cotton has excellent fiber absorption and fiber retention under high temperatures and constant saturation, leading to a longer cotton life and fewer tank leaks a unique and all natural cotton that you have to experience yourself Package Contents:No – this will not get you high 
10g Canna Cotton precut into strips. (80% Cotton 20% Hemp)
2nd favorite cotton!!
Canna cotton was actually pretty impressive. After a little learning curve ( found it tears easily if put in to tightly packed) but otherwise its perfect for those really hot builds that may potentially cause a dry hit!! Purposely caused a couple dry hits just to see if it burned up like some other kinds but it held up nicely and when re-saturated with juice you couldnt tell it had been through a few dry hits. Wicks nicely and if you are so inclined it will make a nice scottish roll if thats your thing!! As always the SFV gang were quick to ship and all around awesome to deal with.