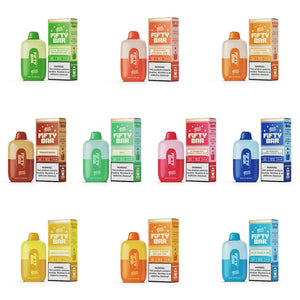 Features:
Mesh Coil

USB-C Charging

Anti-Burn Technology

5% Nic

6500 Puffs
Package Content:
1x Fifty Bar 6500 Puff Disposable
Flavor Description:
Cinnamon Funnel Cake - Cinnamon, funnel cake

Mint - Menthol

Strawberry Cereal Donut Milk - Strawberry, cereal, donut, milk

Aloe Grapple Watermelon - Aloe vera, watermelon, grape

Juicy Mango Melon Ice - Mango, melon, menthol

Tobaccocino - Tobacco, cappuccino

Blue Razzle Ice - Blue raspberry, menthol

Blueberry Cereal Donut Milk - Blueberry, cereal, donut, milk

Diamond Peach Ice - Peach, menthol

Vanilla Custard - Vanilla, custard
Elf bar BC5000 Ultra
Fast discreet shipping that was trackable through shop app, arrived in 3 business days. Also all products brand new with serial codes/QR proving they are the real deal! Will definitely be making more purchases here!!
Elf Bar BC5000 Ultra Disposable