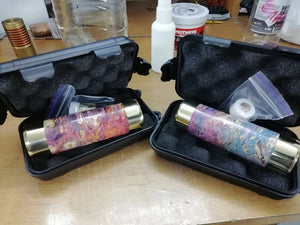 The ENT 2.5 is one of the most popular and known varieties of Yuri's work. He spends anywhere from a month to two months completing one tube to ensure the best finish and quality and artisan Mech tube manufacturer can offer.

Yuri is the owner of Ent Mods in Ukraine, his passion for higher end and fancy from a jewelry background allows him to show his ability and the craftsmanship that no other is willing to take upon themselves.

This mod comes with the upgraded V2 switch which usually will cost $50 more 
Specifications:
- Brass+stabwood
- Hybrid connector
- Single 21700
- Top diameter accommodates 30mm RDA.
- Automatically adjusts for battery rattle.
- Almost 0 voltage drop due to the large contact surface in high quality brass.
- Handcrafted with love
- Upgraded Switch V2