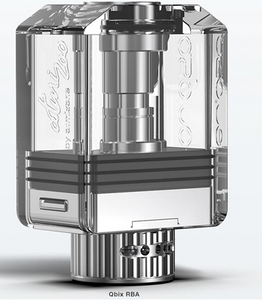 Aspire Qbix RBA Pod
 is compatible with BOXX Kit and created by Atmizoo, a Greek team of vape designers. It is simple and beautiful with 4ml e-juice capacity. You can easily finish you custom coil builds in minutes with Qbix RBA Pod and enjoy different vaping from MTL to DL. In addition, there are ten extra RBA AFC pins in the package to bring added flexibility.
Technical Data:
Capacity: 4ml
Fit for: Aspire BOXX Kit
Quantity: 1pc each pack
Package Includes:
1* Qbix RBA Pod(4 ml)
10* RBA AFC Pins( 1*φ0.8mm, 1*1.0mm, 1*1.2mm, 1*1.5mm, 1*1.8mm, 1*2.0mm, 1*2.5mm, 1*3.0mm, 1*3.5mm, 1*4.0mm preinstalled)
1* RBA AFC Adaptor (preinstalled)
Qbix- great and cheap.
Have tried almost every boro bridge out there, Qbix is easily in the top 5 overall. At the price point, it's the best out there. Nowhere else are you going to get such a banging little tank for $40 to your door.
Flavor is good, but I wouldn't say amazing. Where it really shines is the combo of top down wicking and draw customization. You may get a little turbulence running wide open, but if you use it for mtl (1mm pin, 2 air holes open on the afc) I experience no gurgling or whistling.
All in all, I highly recommend this tank as an affordable alternative to something like the Mobb or VapeSnail. Can't go wrong with this one.
Awesome site to order from. Super fast shipping and answers any questions you may have before purchasing. I definitely recommend this site 100%
Qbix RBA
Great rba and easy to build on and wick. Super quick shipping as well.