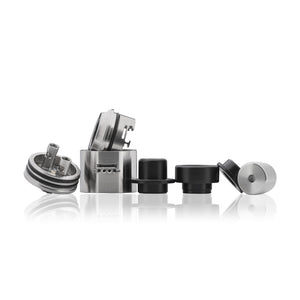 The Rye RDA features a beautiful, simple, innovative, and pragmatic deck. It employs a classic dual post configuration - except the posts have been rotated by 45°. This provides optimized post hole capacity without the bulk typically required of beefier posts. The result is a comfortably ample 4 x 2.4 mm post hole opening which accepts the leads of any build you would reasonably install in this world class 24 mm flavor chaser.
 The Rye RDA also features the vaping industry's first ever convex deck which boasts a visibly perceptible 2 mm gradient. The "pitchers mound" shape ensures ALL e-liquid (excess or not) immediately vacates the "spit-back" hot zone in the center of your deck while incidentally ensuring wetter wicks for longer vaping sessions. More importantly, the convex gradient actively neutralizes unwelcome and avoidable "spit-back" when pulling on your atomizer after a fresh drip.
 The Rye RDA also features a highly sophisticated multi-level and mutually independent airflow intake system. Both the top cyclops and the lower level circular intakes are fully available and adjustable on their own - in addition to being fully opened and closed concurrently. All intake dimensions have been executed with extreme mathematical precision to facilitate optimal performance output across the entire spectrum of your preferred airflow control settings.
 From it's inception, the Rye RDA was designed with an ethos of comprehensive intolerance for airflow turbulence. As such, with painstaking care, every potential sharp angle or hard cut inside the chamber has been rounded appropriately to promote an incredibly smooth draw. Fewer "sudden" hard wall transitions and sharp corners in your RDA's chamber means less turbulence and a more rewarding vape.
 The proprietary 810 drip tip with a 7.25 mm custom bore provides the perfectly balanced draw you seek for the majority of builds which will call this RDA home. Nevertheless, the Rye RDA comes with an additional 10 mm bore drip tip, a stainless steel 3 mm bore drip tip, and an 810 to 510 drip tip converter for those who need the extra option. Additional o-rings, screws, a squonk pin, and a genuine anti-strip hex tool comes standard with every RDA that leaves our doors.
 In keeping with our objective for "the best - or nothing" the Rye RDA sports a HIGHLY conductive silver plated copper 510 pin. We know good and well that silver plating has a shorter shelf life than typical, so we included a second silver plated copper 510 pin in your spares for safekeeping, and the eventual day when it may be needed.
**Please order all pre-order products separately to ensure timely delivery**
Estimated ETA 5/8/2020