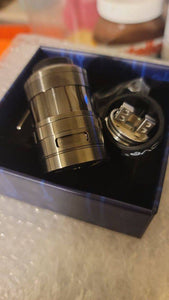 The voltrove LE V2 35mm!
Comes with a Velocity deck and Postless deck.
The Blem is a shade darker of anodizing on the juice flow ring (barely noticeable)
Price reflects in order to give the customer free shipping! 
Pretty decent
Haven't got to use it yet but need to get a mod that will house this masterpiece
Voltrove
Hands down the best big boy tank, massive clouds and a ton of airflow. Great flavor
Sexy Time
Rta is fire. My nips can only get so erect. Shipping speed and packing is on point.