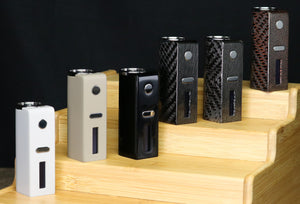 BLACK FRIDAY SPECIAL WHILE SUPPLIES LAST!
Originally $289.99 now this whole week $239.99!
Stealth V2 Carbon by BlackRose
Mods 18650 by BlackRose
This mod will work with an 18650 battery and is powered by an Evolv dna60. The size of the mod is very compact and the special thing about this design is that it comes with a USB stick not for charging purposes but only for updating purposes. (simply remove the screws attached to the bottom plate and access the USB port)
The mod is super sleek and stealthy as its structure is designed based on a unibody appearance and it comes with 2 sets of beautiful rings that can accommodate atty size from 22mm to 24.3mm. The mod can be disassembled easily at your end for customization or cleaning purposes.
Features Stealth V2 Carbon by BlackRose:
MATERIAL 510: SS304 (polished)
Buttons: SS304 (polished)
Bottom plate: SS304 (brushed)
Battery cap: SS304 (polished)
Rings: SS304 22.3MM ID/26MM OD and 24.3MM ID/26MM OD (polished)
SPECIFICATIONS Size (compact and solid feel in hand)
Height - 78mm
Width - 34.4mm
Diameter - 26mm
Battery: 18650
Chipset: Evolv DNA60 with USB (for firmware update purposes only)
Materials :
Body in Carbon, Juma and Peek

Stealth V2 Carbon by BlackRose contains:
1x Stealth V2 Carbon
2x Rings
1x Protective box
1x Certificate
Design, production and assembly in Malaysia by BlackRose