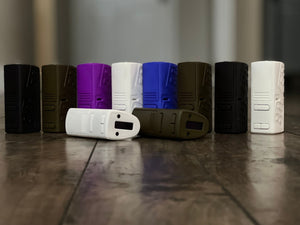 Boxer Classic DNA60 Boro Box Single 2X700 Portable Soldering Station is designed specifically for professional and high-end users.  This device is powered by the Evolv DNA60 processor.  The Boxer is a small but extremely potent device, designed to provide a balance of both power and convenience.
Made of nylon plastic, the device is strong but yet light.  The DNA60 is a power regulated digital switch-mode DC-DC converter. It features Evolv's patented Wattage Control, Temperature Protection, Preheat, OLED Screen, and waterproof onboard buttons.  This version of the Boxer runs from a Single 21700 or 20700 battery, and features battery monitoring.
Features:
Powered by the Evolv DNA60 chipset
Single battery 60W regulated based on 1 x 21700 or 1 x 20700 (sold separately)
Accepts Standard Boro/Bridge (sold separately)
Output Power 1W – 60W
22 Amp current output limit
Output Voltage: 0.2V – 9.0V
200°F-600°F
Modes: Locked, Stealth, Power Locked, Resistance Lock, Max Temperature Adjust
8 User Profiles
Onboard reverse voltage protection
Cell monitoring
Plastic Nylon Body
Ergonomic design
OLED 0.91″ Screen
Dimensions: 88mm (H) x 33mm (W) x 46mm (D)
Contents:
Boxer Classic DNA60 Boro Box Single 2X700 Portable Soldering Station w/ 12-month warranty
Boxer Soldering Tip (1) (510 Bridge adapter required for soldering tip.  Sold Separately)
Boxer Band (Color Coordinated)
Boxer Felt Draw-String Pouch
Boxer Tube
User Manual
So damn light
So honest opinion. The stubby is nice, but is extremely heavy. The rba can't be beat. But I prefer the boxer. It's just so damn light. I went fishing today, and the mod I grabbed was the boxer. Didnt even think to bring a secondary mod like i usually do.
Awesome mod
Great mod, very good build quality. Liked it way more than I expected.
Amazing
I will order another to have put away! Amazing mod! Hands down one of my favorite boro mods ive used! Hasn't left my hand since I received it!
Boxer Boro
I'm in love with this device! Compact and very well made. I'm using it with the Voltrove and it's a very satisfying vape. If you like Boro devices then this is a must for your arsenal.