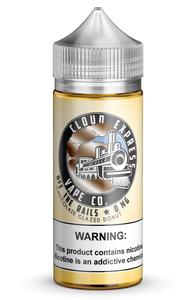 Loco -Bursting with freshly cut pineapple, tropical fruits and lightly finished with creamy ripe coconut, this E-juice makes for the perfect all day vape.
Fresh tropical fruit and pineapple on the inhale, with a delicious creamy exhale.
Best Juice Out There
"Off the Rails" is but one of my favorite juice flavors from the CLOUD EXPRESS line. After 10 years of searching for the best flavored juice I could find I only use these flavors. Try 'em! You can't go wrong.
Best Chocolate
I have tried pretty much all the famous chocolate e-liquids. This is the one I always go back to, time after time.