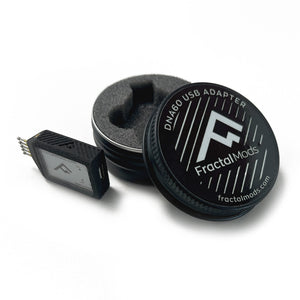 This USB adapter is designed for devices with DNA60 boards that don't have a data capable USB port.
What makes it different than other adapters apart from the USB Type-C port is that the pins that connect to the DNA60 are spring loaded so it can work on devices like delro where the left of the 5 pins has a soldered wire also because of these pins you don't have to hold it at an angle because the pins don't go in the DNA60 board.
The board is custom made & designed, it has a battery charging chip so it will work with or without a battery connected and it has electrostatic protection for the data lines.
In the front of the adapter there are 2 screw inserts for brackets that will be available soon for Billet Box, delro and other devices. The casing is nylon 3D printed and the the board is protected by 2 small acrylic plates.