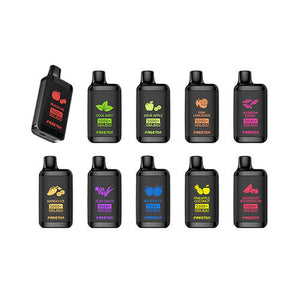 Taking disposable performance to new heights, the Freeton Iris Box Disposable Vape sets to deliver a game-changing experience by offering innovative features. The device provides appeal, and performance customization features, and shares some of the most amazing flavors for you to soak your taste buds in.

 What are Freeton Iris Box Disposables? The Freeton Iris Box Disposable Vape is a premium vape device that has a blacked-out appearance, which is covered in a high-quality rubber painting and marked with bright-tinted 3D printing. The device boasts an integrated 650mAh rechargeable battery and uses a type-c charging port. It has a 12mL vape juice capacity and can generate up to 5000 puffs. What's most impressive is the device has adjustable airflow with 3 different levels for a medium to tight MTL draw. Further boosting its performance output and flavor production, the device uses an advanced stainless steel mesh coil that also helps avoid dry hits and provides a consistent taste from beginning to end.

If you are looking to experience a more enjoyable vape that brings together performance, flavor, and longevity, the Freeton Iris Box Disposable Vape is truly impressive. It's a flavorful vape that leads to as many as 5000 puffs, and quality salt nicotine to satisfy your cravings.