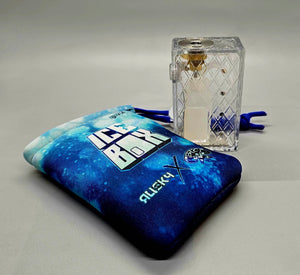 It's the Year of the RUSKY and Matt Bennett is going to be partnered with him for one of the best machined squonks this year: The ICEBOX.

The ICEBOX is a brainchild between EBTC (Everything BT Customs) and RUSKY to bring a small but very powerful 18650 mech squonk. The machining is all done by Matthew Bennett as well as the designing. The ICEBOX will provide a compact sexy design that has not been on the market before.. 
The features are as listed:
- Fully Machined and Assembled in the USA
- Full Silver negative and positive Contacts
- Custom 510 made by Scottua
- Seamless door that is held in by pressure and magnets for extra sturdiness
- Very Durable and reinforced design to allow peace of mind


- Beveled body to keep contacts in place
- 8ml Xstar Square Bottle
- Custom LYONK Pouch designed by Emmanuel 
Amazing mod
I am typically not for mechs anymore, but this mod has changed my mind. Extremely well built, super hard hitting.