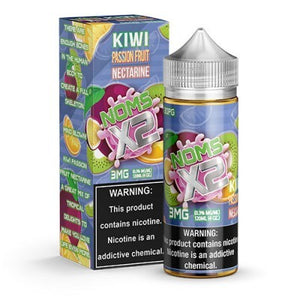 Kiwi Passion Fruit Nectarine. It's in the name. We could give you an amazing flavor description, but that would be a waste of time. Vape it, and see why it will be your favorite vape of all time.
Nomenom - X2 Kiwi Passion Fruit Nectarine
Very good. Made in USA out of high quality ingredients. Bottle is first rate. Price for 120 ml is good value. Everything about purchase was also very good. Would buy this e-liquid again and also deal with Straight Fire again. Delivery cost was less and shipping time was much faster than most vaping dealers. Jim Martin.