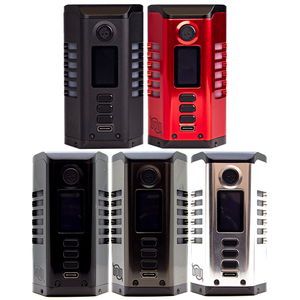 The ODIN 200w is the newest collaboration by Vaperz Cloud, Dovpo and The Vaping Bogan, creating a more affordable ODIN utilizing Dovpo's own 200w chipset device with a zinc alloy construction.
Description
The ODIN 200w is here, produced by 3 great modders in the industry Vaperz Cloud, DOVPO and the Vaping Bogan they have come together and designed what could be one of the best 200w Devices on the market today.
The ODIN 200w is a very similar look and feel to its DNA250c brother with different features, rather than using an Evolv DNA chipset it now features a Dovpo own 200w chipset, utilizing USB C Updating and charging port with a zinc alloy construction.
Not only does the ODIN 200w now use the modern-day USB C charging port, but it is also compatible with either 18650 or 21700 batteries (sold separately) whilst still maintaining a small and ergonomic form factor.