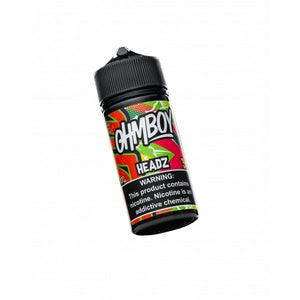 Start's off with a Lemonhead candy inhale followed by a mixed fruit exhale. Perfection in a bottle, candy lovers unite! Please note the lemon doesn't taste like household cleaner, sorry!
Available in 0mg, 3mg, and 6mg nicotine levels in 100mL bottles.
Wonderful Product & Shipping
This lineup of e-liquid from Dwayne, (AKA) "OhmBoyOC" whom is likewise widely regarded as one of the top Coil Smith's in the industry, the "HEADZ" is OUT OF THIS WORLD. Absolutely outstanding explosion of flavor for your palate, likewise the shipping was the fastest you get, SFV thank you for your professionalism
Ohmboy Headz
Not bad! Light, fruity vape. Goes good all day.