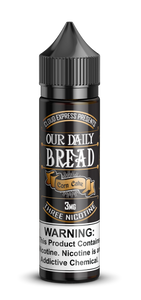 BERRY CHUG- Creamy fried vanilla ice cream lightly drizzled with fresh blueberries.
This is the smoothest vape you'll ever have. Fresh light blueberries on the inhale, and sweet creamy vanilla ice cream on the exhale.
Don't sleep on this
This corn cake liquid is very good. My bottle was well-steeped, which is a bonus. The nic was not pepper-y at all. Everything is well balanced. Only negatives would be, that I did get a very faint frito off-note on certain devices. But, that can happen with most corn/AP flavors. Like many commercial lines, it's on the sweet side, but not sickly sweet, unless you prefer 0.5% SS. I'd def buy again. And lastly, Straight Fire, is just that. Such a great site.
Our Daily Bread - Corn Cake