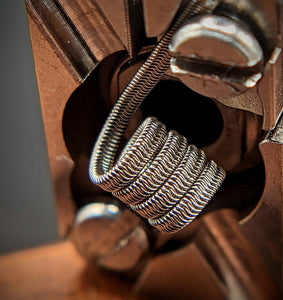 Another limited edition coil from Rebelz. This time we have Interlocking Fraliens coming in a super tiny package.  limited quantity of 10 sets. you'll want to be there to guarantee yourself a set
.41 ohms per coil
2.5mm diameter
These Coilz have Opposing leads are intended for small rbas and boros
 All Coilz thoroughly cleaned in ultrasonic cleaner before packaging.
Bad coils and no response
I have bought a few order of coils but my last order one of the sets of coils one for the coils did not want to fire right no matter wat I did I did email the company twice and still no response and it has been over a week that the only complaint I have other than that the other 4 or 8 sets I have ordered have been awesome
Absolute bangers
Not too hot and serious cloud and dense vapor. Worth every penny for sure!