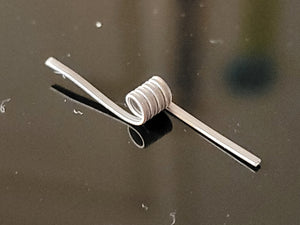 The Red's alien is the alien that everyone knows him for. The Alien that made "boro" rebuildables into a thing. The reason why there's flavor and saturation in every hit. The crackle, they pop, they shit flavor"
The Red's Aliens' are .32 ohm with 2.5mm inner diameter. End user can have the ability to stretch the inner diameter to 3mm with ease increasing the resistance by .08
Completely compiled from wire buddha.

Every coil set has gone through QC and been cleaned in an ultra sonic cleaner

Let the "Artisan" make a difference in your coil.



Red's Aliens
Amazing! Flavor is awesome!!