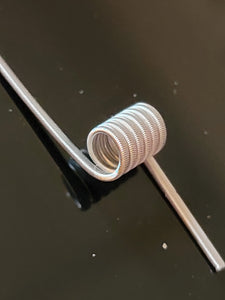 You know that crackle? That coil that you're afraid to use around your spouse when they're sleeping? Yeah this is them. These coils are your setting off a taser in a RDA. 

We fully do not take responsibility for your consequences of waking up your significant other when using these.

Use them on a mech, use them on a regulated, use them on a semi-mech.. Crackle Guaranteed. 
Completely compiled from Twisted Meses.
Every coil set has gone through QC and been cleaned in an ultra sonic cleaner

Let the "Artisan" make a difference in your coil.