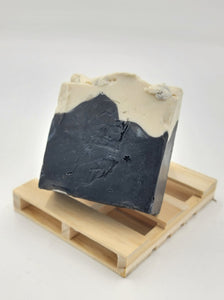 As stated in the title. 
Dolce E Paisano presents to you the soap of The Russian.
Blessed with enough moisture and activated charcoal to make any man feel prettier.

You are conditioned with Black charcoal with the smell of Vanilla and Bourbon.
6 oz Bars, wrapped and shipped with care.
Organic products, feel good smells.. and perfect hygiene. What more could you ask for? 
Ingredients: Olive oil, Coconut oil. Palm Oil, Castor oil, shea butter. lye , water, activated charcol, fragrance vanill & bourbon
Shits awesome
Shits awesome 10/10 would recommend