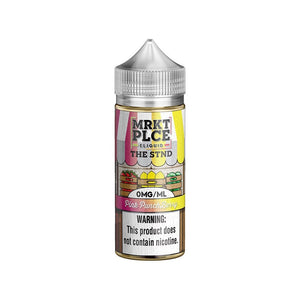 Delivering the flavor of a freshly-squeezed pitcher of limemade with a crisp strawberry and shaved watermelon infusion, MRKTPLCE's Pink Punchberry Vape Juice offers a flavor profile that embodies the flavor of summer, while keeping your tastebuds shining all year long. An excellent choice for those who enjoy well-balanced fruit blends that deliver equal notes of sweet and tangy, this Pink Punchberry Vape Juice is often described by fans as a mouthwatering flavor profile that is as authentic tasting as it is refreshing. If you've ever enjoyed a cold glass of fruit-infused limeade on a hot summer day, then you won't want to miss out on this delectable Pink Punchberry Vape Juice by MRKTPLCE.
Wonderful As Always!!
Once again SFV coming through huge! 'MRKT PLCE's line up is one of my new favorites without a doubt especially this flavor, it is out of this world! However every single juice in the lineup is wonderful try the 'Orange Tangleberry' it's good the 'Blueberry Lemon' is good, and of course the wonderful shipping and customer service from SFV tops it off
Yum
Yeah this stuff is really tasty. If you like juicy/fruity punch flavors just get it.