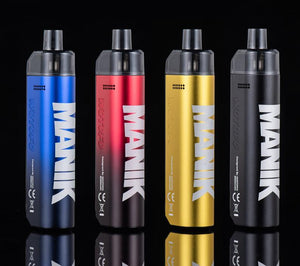 No Compromise on Playability
At Wotofo, we believe in providing all our customers with the best possible vaping experience through products that they can use to tailor to their requirements. Vape products should be elegant, portable, and attractive. Additionally, vape pods should allow them the customizability settings so they can enjoy a vaping experience that they would prefer.
The SMRT Pod Kit comes in as the most versatile pod system in the market right now.
The SMRT Pod Kit allows you to use your vaporizer without worrying about endlessly fiddling with complex settings that you don't understand. The playability of the SMRT Pod Kit allows everyone from beginners to veteran vapers to use the product for an enjoyable experience.
The More You Use Your SMRT, The Better It Gets
The SMRT Pod Kit is Wotofo's way to provide a convenient solution for vapers at all levels. The basic product itself is quite easy for newbies to understand, but it is highly customizable. With several easy rebuilding options for coil heads, you can make slight adjustments to the pod as you learn more about vaping and start playing around.
The product effectively levels up the interaction between vape products and vapers. Instead of purchasing a simple product as a beginner and moving on to another product when you want to take your vaping game up a notch, you can easily rebuild your SMRT Pod Kit to match your changing vaping preferences.
A More Interactive Everyday Vape Pod
RDAs and RTAs are already available for experienced vapers who like rebuilding to customize their experience. Wotofo felt that many of the customers who prefer pod vaping could not have the same fun because of vape pod kits being too rigid. But why should the pro vapers have all the fun?
With the advent of the Wotofo SMRT Pod Kit, you get a product packed with different coil options that can revolutionize your ability to make vaping more exciting and interactive throughout the day. Imagine an everyday vape pod that can do more than ever before!
Hack Coil Heads With Ease
Here's a better look at everything you can get when you buy the Wotofo SMRT Pod Kit.


What's in the package:
SMRT POD KIT (PnP Kit)
1 x MANIK S Battery
1 x SMRT PnP Pod Cartridge
1 x SMRT PnP Rebuildable Coil Kit
1 x D15 Clapton M Coil (Interchangeable with GTX Coils or PnP Coils)
1 x Type-C Charging Cable
1 x User Manual