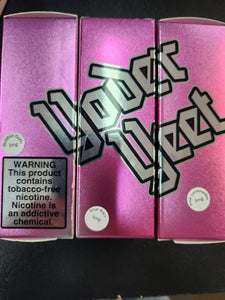 From the mind of the man who has been in the industry as long as it's been alive.. We present to you some of the cleanest and most powerful flavors Yoder Yeet

Blue Razz - Not a lemonade, but not a candy either.. This will bring your favorite fruits and childhood memories to realization of Blue Raspberry

Pink Lemonade - Pucker and sweet enough to make Newman himself question his ability with his lemonades

Bubble Gum - Hubba Bubba has nothing on this, not too sweet, not too mellow, just right. Bring it home with the delicious bubble yum.
Yoder Yeet 100ML
Never heard of this brand. But it was pink lemonade. I had to get it. Good stuff. Great taste. Clouds. ADV for sure. 100 ml almost gone.
Fast delivery as always. No bs charges!
Blue razz and bubblegum
Both the blue razz and bubble gum are amazing! Gotta be the best blue razz juice I've had. The bubble gum is spot on exactly what you'd want if you love bubble gum. Thanks for the fiya juice Yoder and thanks for the fast shipping Demitri.
Blue Razz
This Blue Razz is outstanding, has a slight note of pomegranate, which complements to the tangy flavor of blue raspberry, possibly the best version I have ever had.