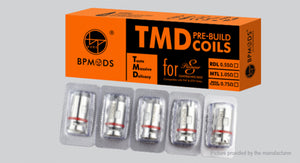 TMD Coils (5-Pack), featuring 0.55ohm, 0.78ohm, and 1.05ohm coils for MTL or RDL lovers that will produce delicious flavor and vapor.
BP Mods TMD Replacement Coils Features:
BP Mods TMD Coil Series
0.55ohm TMD RDL Coils
0.75ohm TMD Mega Flavor Coils
1.05ohm TMD MTL Coil
Compatible with PnP or GTX Coils
Press Fit Coil Installation
Comes in a pack of five (5).
Pioneer S coils
Very flavorful and last a long time. Be sure to thoroughly prime them before use.