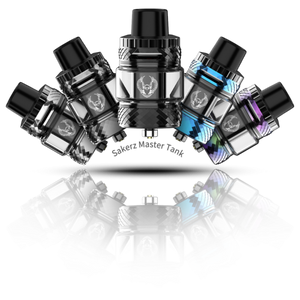 Horizon SAKERZ Master Tank
Q U I E T E R   A I R W A Y ,   S O O T H I N G   A I R F L O W .
The Sakerz Master Tank from Horizon Tech is the upgraded version of the successful Sakerz Tank. With an even better and smoother flavor than its predecessor, the Sakerz Master Tank features a 5mL e-liquid capacity and a new 0.4Ω mesh coil that will bring you a unique vaping experience. The original Sakerz Tank is an improved version of well-known and liked Horizon Falcon II and Falcon King Tanks so you know the Sakerz Master Tank will easily become your new favorite atomizer.
Specifications:
Size: 56mm x 28mm
Diameter: 25mm
Capacity: 5mL (bubble glass) / 3.5mL (straight glass)
Airflow: Dual Adjustable Top
Fill Style: Top Refill
Drip Tip: Wide Bore
DOUBLE-SIDE AIRFLOW CIRCULATION DESIGN - Powerful hardcore upgrade of airflow control system. Enhance the sense of air mobility by air convection of two symmetry air hole design on the top. 
ANTI-LEAK ENGINEERING & ECO MATERIAL - Auger-type cap valve above the camper guarantees zero leakage of e-juice. Filling hole inlaid on the sealing gasket enables effortless refilling with simplicity. 
Box Contents:
1 x Sakerz Master Tank 5mL
1 x Sakerz Mesh 0.16Ω Coil (70W) (pre-installed)
1 x Spare Sakerz Mesh 0.4Ω Coil (40W)
1 x Replacement 3.5mL Glass
1 x Tool Kit
1 x User Manual

Coil Packs can be found here