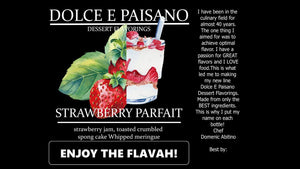 Please see image for description and thank you for understanding :)



ALL FLAVORINGS COME IN 0MG YOU NEED TO PURCHASE A NIC SHOT IF YOU WANT PROPER MG
Yummy
This flavor is pretty bomb! Not super sugury its tastes like a strawberry Sunday
WOW!
I put this juice in my GT4 S and every note has been hit with this FLAAAVAH!!!
Absolutely amazing
Not only did I receive fast shipping and excellent customer support, the Dolce Strawberry Parfait is absolutely fantastic. The Russian has me for life!
Strong pepper taste
Unfortunately, I don't taste strawberry. All I get is a strong obnoxious peppery taste.
I'm actually letting the bottles steep for a while to see if the strong flavor calms down. It actually gives me a sore throat.