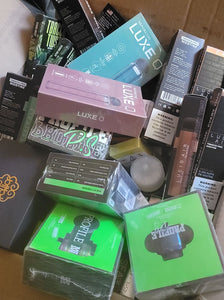 Common times you want to take a gamble. You want something new, you don't know what nor do you want to spend a crap ton of money on it. 
In the RUSKY grab bag you can find the following at random:
-Disposables
- Ejuice from 60-120ML's of 0-6mg
- RTA
- RDA
- Cotton
- Mod
- Pod system
- Sub ohm tank
- Coils (prebuilt no subohm unless it goes with said device)
- free swag (if I have it from the manufacturer)

Take a chance and you might get something that is exactly you wanted for below my cost! 

The value is as goes: Everything will be market value $100 or more, no expired ejuice, no broken items, no random accessories that can't be used without said device.
All sales are FINAL!
Well worth it
I'm a newbie, and it suits me very well. Well worth a try.